About Archangel Waters
Made with love for the intention of healing.
The Process
Did you know that every divine being and Archangel has a corresponding gem or crystal that aligns with the same energy and vibration of that being?
By capturing the essence of that particular gem or crystal it is like having your own personal Archangel in a bottle. By spraying the crystal/gem essence over your body you are able to invite the Archangel into your energy field so they can heal and manifest on your behalf.
How is the essence extracted?
When making an EXTERNAL USE gem/crystal spray, it is recommended to use only tumbled stones. Normally, the gem/crystal is placed in pure water for several hours under the light of the full moon; the vibration of the crystal is then transferred into the water.
Archangel Waters Aura/Body Sprays are completely safe for EXTERNAL USE ONLY because the vibration of the crystal/gem has been transferred to the water via Reiki healing by a professional Reiki Therapist. This gives you complete peace-of-mind that your bottle is 100% Pure, safe and energetically charged.
What else is in the Bottle?
Along with the beautiful crystal/gem energy is:
100% pure rainwater that has been charged under the light of the Full Moon for eight hours.
Beautifully Blended essential oils.
Healing Reiki Energy
Available in 100ml sturdy Brown Glass spray pump bottle
Why are there essential oils included?
The oils are placed in each Bottle to stimulate the olfactory system which sends a response past the Neo-cortex or Conscious brain and into the Limbic System. The Limbic System is a group of nerve networks that deal with instinct, memories, emotions, motivation and learning.
Our sense of smell has the power to remind us of memories from many years ago, therefore our sense of smell holds the key to our subconscious mind allowing us to reconnect with our higher self.  It is here that the Archangels will communicate with us and where we will find our answers to healing.
How did these beautiful Bottles come about?
The concept of using crystals for healing or to encourage Angelic assistance is not new particularly for Energetic or Reiki healers. These bottles were originally created by me, a Natural Medicine Practitioner and Reiki Therapist. After attending an Angelic/Shaman Retreat I received a guided message to use "liquid crystals" with my clients as a way of invoking specific Archangels who desperately wanted to help and assist during the session.
So I began to select (with guidance) different crystals/gems and aroma oils to represent the different Archangels. Originally, the bottles were created only for my use in clinic however; clients enjoyed them so much they began to ask if they could purchase the bottles so they could continue "therapy" at home. So, more bottles were created for clients to purchase.
Eventually, other Reiki Practitioners, Energy Healers and Shamans in the area come to know the bottles and began to experience the positive effects from the Archangel Waters that they too are now incorporating the sprays into their Healings.
How do I use the Archangel Waters Aura Sprays as a therapist in healing session?
Easily, I simply begin every Reiki Session by laying out all the corresponding crystals and asking the client to select which crystal they feel resonates with them. After they make their selection, I explain to them which Archangel will also be joining the healing session.
For e.g. If they select Rose Quartz, I explain to them that this Represents Archangel Ariel and she is concerned with (reading off the bottle) increased business/finance, attracting love, abundance, animal healing and environmental healing. I then ask the client if any of those aspects ring true for why they are here today and every time they say "yes". I then bless the space, therapy bed and clients aura with the spray and begin my Reiki Healing as usual.
Sometimes the client can have difficulty choosing a crystal or they may be too emotionally distracted to really connect with a crystal, in this circumstance I simply get them to blindly pull a crystal out of a bag to select an Archangel Waters spray.
Do I have to have a Reiki session with a professional before I can select a bottle?
No, many people will just buy them off the shelf for themselves or loved ones. By reading the description of each Archangels specialties, it is easy to select the right bottle for your current circumstances. The Archangels have made it very easy for you 😉
REMEMBER: There are no mistakes, you can select and work with as many Archangel Waters Aura Spray bottles as you like, however you like. You don't need to know Reiki or even be a therapist to begin your journey with these bottles. The Archangels love you and they want to be in your life to help you.
The Different Angels
Archangel Ariel     
Specialties:
Manifestation of worldly supplies
Environmental Concerns, cleaning, healing, protecting
Magic from the Divine
Abundance of love
Business Success
Aura
Her aura is Pale Pink and her crystal is Rose Quartz
Who should work with Ariel?
Anyone who works with or has an infinity with animals
Animal carers and healers
Anyone with a sick or injured pet
Environmentalist workers and healers
Anyone who is looking to increase business profits/opportunities
Anyone who needs to manifest earthy supplies
Anyone who needs extra love or seeking a soul mate relationship.
Archangel Gabrielle
Specialties
Creativity Flow
Communication
Media Communication
Confidence with Artistic Projects
Adoption of children, Conception of children, Fertility
Aura
Her aura is a beautiful copper colour and her crystal is the yellow citrine
Who should work with Gabrielle?
Anyone looking to have clearer communication
Anyone having difficulty with Parent-child relationships
Journalists, communication workers, media professionals
Those looking to adopt or conceive and child
Archangel Haniel
Specialties
Feminine Strength
Moon Connection and Moon Magic
Healing abilities
Peace and Grace
Increased Clairvoyancy
Aura
Haniels aura is a peaceful Bluish White and her crystal is the Moonstone
Who should work with Haniel?
Those who do energetic healing work
Anyone who wants to increase their feminine power
Those who are drawn to the moon energy
Archangel Jophiel
Specialties
Increased Beauty
Encourages Beautiful thoughts
Artistic Beauty
Encourages Positivity
Aura
Jophiels aura is a beautiful deep dark pink and her crystal is the Pink Tourmaline
Who can work with Jophiel?
Anyone who needs increased beauty in their lives
Artists and Interior decorators
Anyone who wants to lift their mood and attract positivity into their lives
Archangel Metatron
Specialties
Brings understanding and love to all sensitive children
Works with children with ADD, ADHD or on the autism spectrum
Balances chakras particularly in children
Chakra alignment in adults
Aura
Metatrons aura is healing green with pink stripes of love. His crystal is the Watermelon Tourmaline
Who should work with Metatron?
Teachers, parents and carers
Those who also work with special needs children
Any child who presents with sensitivity
Families or individuals that have experienced a recent tragedy
Anyone who feels their chakras need balancing
Anyone who does chakra healing work with children
Archangel Michael
Specialties
Finding life purpose
Courage, strength and motivation
Protection from lower vibration
Protection from other peoples negativity
Self esteem
Space clearing
Aura
Michael's aura is a powerful deep blue and deep violet. His stone is the Sugilite
Who should work with Michael?
Anyone who works in the protection field, police, guards, children's services etc
Anyone who needs either personal space or home/office space protection from lower energies
Anyone who clears space as a profession
Those seeking to find direction and life purpose
Anyone who wants to feel stronger or increase their personal power
Archangel Raphael
Specialties
Support and guidance to those in healing profession
Healing of body, soul and spiritual healing
Travel Protection
Cravings and addictions
Space clearing after healing
Aura
Raphael's aura is a luminous emerald green. His chosen stone is Malachite
Who should work with Raphael?
Anyone battling addictions or cravings
Anyone in the healing profession, nurses, masseuses, energy therapists etc
Anyone who wants to clear a healing space at home or work
Travelers seeking protection and safety
Students of healing modalities
Archangel Raziel
Specialties
Alchemy
Clairvoyancy
Esoteric wisdom
Healing past lives
Dreams
Manifestation
Revealing secrets
Aura
Raziels aura colour is the Rainbow. His stone is the clear quarts which has every colour in it
Who should work with Raziel?
Anyone wanting to increase their psychic abilities
Alchemists
Those who need healing from a past live
Those who work with others on past life regression
Anyone who wants to overcome a past tragedy
Anyone who wants to clearly understand dreams or who wants to receive messages in their dreams
Those who want to learn the deeper secrets of the universe
Archangel Uriel
Specialties
Clear thinking
Problem solving
Increased ideas and intuition
Students
Earth Changes
Removing writers block
Aura
Uriels aura is a subtle pale Yellow. His stone is the Amber.
Who should work with Uriel?
Anyone who is studying or taking exams
Anyone who needs to increase problem solving
Anyone who wants to have fresh ideas
Those experiencing writer block
Anyone who is involved with earth moving, planning or gardening
Psychologist or Counselors
Psychology or counseling students
Mother Mary
Specialties
Children's Healing
Fertility Healing
Love and support to mother especially single mothers
Increased mercy and compassion
Forgiveness
Self forgiveness
Aura
Marys aura colours are beautiful  Gold and light Pink rays. The crystals used to represent Mother Mary is Angelite, Amethysts and Rose quartz
Who should work with Mother Mary?
Anyone seeking more compassion and forgiveness in their lives
Those concerned with healing children
Mothers who need support
Single mothers who need extra support
Anyone having fertility issues
Those in the Child-care profession
Those who want to add  caring aspects to their profession
Students of Spiritual/Religion or Child-care modalities
Cost $20:00 AU Plus postage RRP
For orders outside of Australia, please contacts us to make arrangments.
Archangel Waters
Price: $20.00  plus postage $10.00. Click the button below to purchase the Archangel Aura Sprays that Julie uses everyday. You will receive an email outlining the use,to help guide you. Total Cost in Australia for 1 100 ml Bottle is $30.00
Enter the price above in the field that shows and make sure you leave a note "Archangel Waters name of Spray, Your Address."
For orders outside of Australia, please contacts us to make arrangments.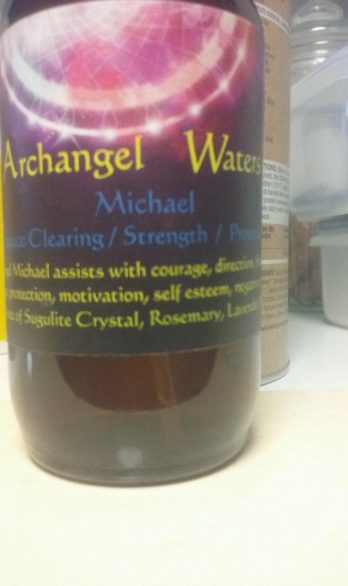 Cost $20:00 AU Plus postage RRP
Cost $20:00 AU Plus postage RRP
Cost $20:00 AU Plus postage RRP
Cost $20:00 AU Plus postage RRP
Cost $20:00 AU Plus postage RRP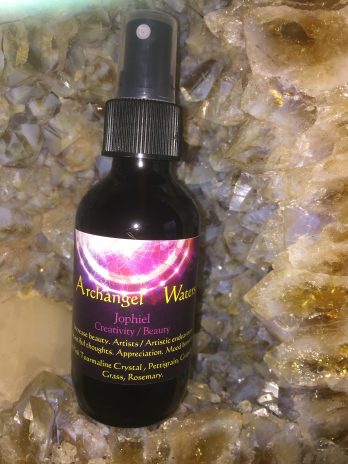 Cost $20:0 AU Plus postage RRP
Cost $20:00 AU Plus postage RRP
Cost $20:00 AU Plus postage RRP